How to make the most of 24 hours in San Francisco
It can definitely be a challenge to see the best of San Francisco in only one day. However, you can get most of it done with some careful planning ahead of time! Here are some of the most memorable spots to see that you should add to your list while you plan a quick 24 hour stop and itinerary to San Francisco. 
Disclaimer: I may make a small commission off of any of the affiliate links below at zero cost to you! If you book through my links it helps support this blog and is very much appreciated. 
Start with a Scenic Breakfast
First, you must fill up on a hearty breakfast for the fuel you will need to get around the city. Whether you stay at an apartment or one of the many stunning hotels in San Francisco with a balcony, make sure you eat something light and energetic. Many hotels also offer breakfast that is included in the stay if you need to grab something fast, especially if you're just in the city for a day.
 Get Inspired! Check out these hotels in San Francisco.
Of course, there are countless places to eat in San Fransisco, but if you are on limited time then finding a hotel with breakfast included is your best way to cut back on time. Perhaps around lunchtime, you could walk and talk with street food from places like The Codmother.
Pier 39 also has some amazing quick places to grab food and walk around.  That way, you won't eat into much of your valuable time needed for getting around and seeing as much as possible.
Visit the Golden Gate Bridge
When someone asks you about San Francisco, it's guaranteed that you will think of the Golden Gate Bridge. The bridge was completed in 1937 and came to represent a new era of prosperity in the United States. Additionally, however, its reach was far more important in architectural terms.
Golden Gate Bridge also set the standard for all other suspension bridges that followed. You can walk the bridge across 1.7 miles all the way to the other side. This isn't too far if you're able! Don't want to trek all the way across? You can also find some stunning photography angles from Golden Gate Park or take a drive across the bridge.
If you do anything while visiting San Francisco for a day, this is the main attraction! You have to be sure to snap some of the most amazing holiday photographs you're ever likely to take with any camera.
Quick Stops for the Best of San Francisco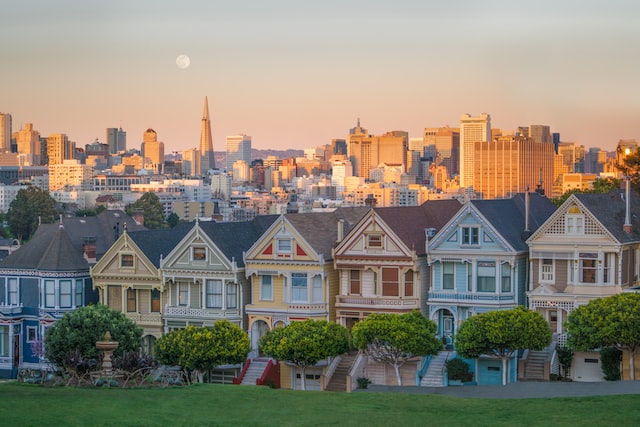 The City of Fog is renowned for many things that represent a modern city. Yet some are at the beating heart of the town, rather than tourist attractions themselves. Because of this, they are wonderful to visit and see if you have more time. These are:
Little Italy

Chinatown

Pacific Heights
Little Italy is great if you plan on staying for a break. Jazz clubs, bars, and restaurants litter the neighborhood. San Francisco is also famous for its large Asian community and huge Chinatown district. I've had some of the best Asian food ever in San Francisco! 
Pacific Heights homes are among the most expensive in America and stunning to see during a drive by if you're short on time. 
Tour Presidio Park
Home to a military compound and the setting of the famous Sean Connery movie of the same name, The Presidio is one of the most visited attractions in the city. Its naval roots mean there are numerous sites of military history, which are great for those interested. But the grounds are extensive and also accommodate several picnic areas, scenic spots, and even a Walt Disney museum for children and adults alike. And if you happen to be at this location while you are hungry, you'll be happy to know the park is famous for its stunning food truck festivals.
If you're a Star Wars fan, while you're in the area you should also check out LucasFilm's head offices which are nestled in a quiet part of the Golden Gate park and open to the public to walk around. You can't visit the inside offices without knowing someone who works there who can give a tour, but the outside campus is definitely cool enough to see. They even have an awesome fountain in front with Yoda.
Ferry to the World's Most (in)Famous Prison
Nestled within the bay of San Francisco sits one of the world's most notorious attractions. Alcatraz prison has been home to some of the world's most prolific criminals. These include Irish gangster James "Whitey" Bulger, the bank robber Machine Gun Kelley and, of course, the Mafia boss Al Capone.
The site is now shut down following the infamous escape of one of the prisoners. However, you can book a tour of the prison departing by ferry from the famous Pier 33. Recently, the location has become famous among ghost hunters because of its alleged paranormal activity. Alcatraz is also a great place to do a ghost tour at Halloween. Be sure to book these tours in advance as they will fill up fast and sell out. 
Even if you aren't interested in dark tourism, the prison is worth a visit purely for historical reasons!
Summary
You may not think it's possible to see the best of San Francisco in only 24 hours. But you can see the bay from your hotel, stop at famous residential locations and depart a ferry to Alcatraz. Hitting all of these highlights is definitely doable! You just need to pick and choose which ones you'd most like to see. 
Keep in mind too that the traffic in the Bay area can be awful so it can take more time to get around town if you're driving and want to see a lot. The first time I went to San Francisco, I ran into this issue and we had to cut back on our to-do list! Thankfully, this city is so stunning it's worth a longer trip if you can't squeeze everything in and want to return.
Read More:
A full guide to visiting San Francisco
Like this post? Be sure to pin it and share!