Los Angeles is a foodie paradise. The City of Angels has so many diverse restaurants and types of foods and many places also cater to many different diets. Whether you're vegan, gluten free or paleo, there's something in Los Angeles for you.
Here's some of our favorite coffee shops around Los Angeles! Many of these coffee shops are also vegan friendly too and don't just offer alternative milk options but also gluten free and vegan pastries and food items. 
Bonus: these places are absolutely amazing if you're looking for a fun Instagram picture! 
Boulon D'Amour Coffee 
1798 W Washington Blvd
Los Angeles, CA 90007
You're actually able to get into the car and take pictures too!
Pink Chai Tea Latte 

Love a pink coffee shop? Boulon Coffee is it! This little shop is all decked out in pink and vintage decor with several fun places to take pictures outside and inside. They have free wifi, outlets, street parking and it's also a perfect place to work if you work remotely. 
Coffee & Plants 
Coffee & Plants is one of the few fully plant based/vegan coffee shops in LA and also has many gluten free options as well. The decor here was incredible and they also sell succulents in cute planters (how fun!) There's a few places to take Instagram photos both outside and inside. 
Nimbus Coffee 
1115 S Hope St
Los Angeles, CA 90015

Are you a Harry Potter fan? Nimbus Coffee is definitely worth a visit! Their cafe features fun interior decor and magical drinks. 
Macchiato
DTLA: 418 W Pico Blvd
Los Angeles, CA 90015
Macchiato is known for their fun potted plant coffee – which as you guessed, literally looks like a potted plant! There's tons of seating here and the interior is super well lit and fun to work as well. 
Not only is the coffee here to DIE for (how amazing is that colorburst latte art?!), the food here is also the bomb.com. We went for brunch but their lunch menu also looks amazing! Tip: this is a place you'll want to make reservations for ahead of time – since it's also a sit down, popular brunch place, it fills up fast. 
This coffee shop located in downtown Los Angeles has great coffee and has some fun 2D illusions where you can snap some fun photos!
View this post on Instagram
View this post on Instagram
Coffee for Sasquatch 
7020 Melrose Ave. @La Brea
Coffee for Sasquatch is known for their fun colorful "cryptid coffees".  They also have an adorable Sasquatch mural inside the store you can take photos with!
View this post on Instagram
View this post on Instagram
View this post on Instagram
Dinosaur Coffee
4334 W Sunset Blvd.
Los Angeles, CA 90029
Dinosaur Coffee is a fun, colorful little cafe located in the trendy Silverlake neighborhood of Los Angeles. 
View this post on Instagram
Carerra Cafe
8251 Melrose Ave. 
Los Angeles, CA 90046
Carerra Cafe is known for their cool latte stamp art and colorful street art. They have some really fun designs to choose from or you can create your own by sending them a photo! They also have a large painted wall mural outside the shop which they update regularly and people love to take photos with it!
Fun fact:

this mural started out at a permanent one, but they decided to switch it out at some point for trending pop culture releases and now it's what the cafe is known for (outside of their fabulous latte print art!)  
View this post on Instagram
Los Angeles, CA 90020
This is a cafe mainly known for their colorful donuts, but their coffee is also really good too! 
View this post on Instagram
View this post on Instagram
Palm Coffee Bar
2922 W. Magnolia Blvd. 
Burbank, CA 91505
Nestled in the heart of Magnolia Boulevard, Palm Coffee Bar has some amazing coffee (the lavender latte is my favorite!) and cute photo spots! The cafe is pink and even has a telephone booth you can take photos by.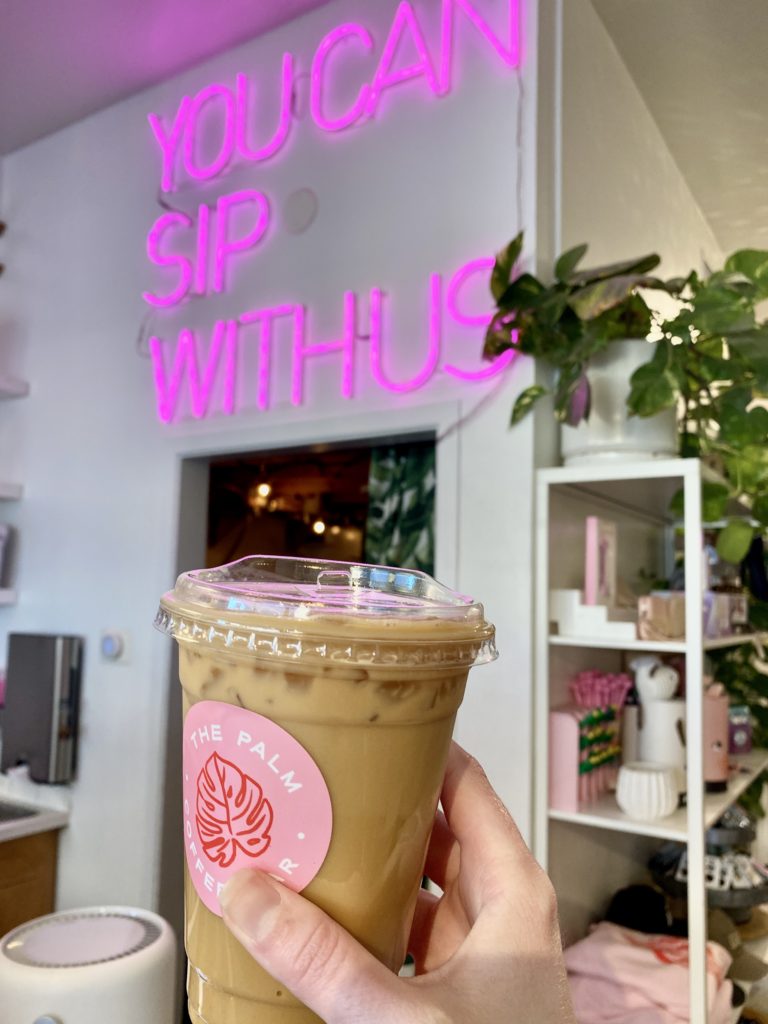 Like this post? Be sure to pin and share!