Introduction
Visiting Bangkok, or indeed Thailand, is on most people's bucket list. The vast and rich cultural history aside, the city is full of wonders unique to it.
From the winding canals down on the ground to the rooftop bars with stunning views of the city, there is plenty to do in between. You could even spend an entire week visiting and not seeing all of the city's thousands of temples. But when you do get around to coming to Bangkok, here are some touristy suggestions of things to do in Bankok for one week.
Can't read the full article right away? Be sure to pin for later!
How to Spend a Week Visiting Bangkok, Thailand
Get Some R&R After Flying
Flying can be a chore, and jet lag is no one's friend – seriously I hate long travel days! So before you head off exploring the stunning amenities that Bangkok has to offer, get in a little R&R first. There's obviously nothing like a Thai massage, and they do spas as well, if not better than anywhere else.
To extend your wellness and for something a little different, consider breathwork and ice baths in Bangkok, instructed by the only Thai Wim-Hoff method certified instructor, Kam Waritsara, at Thonglor.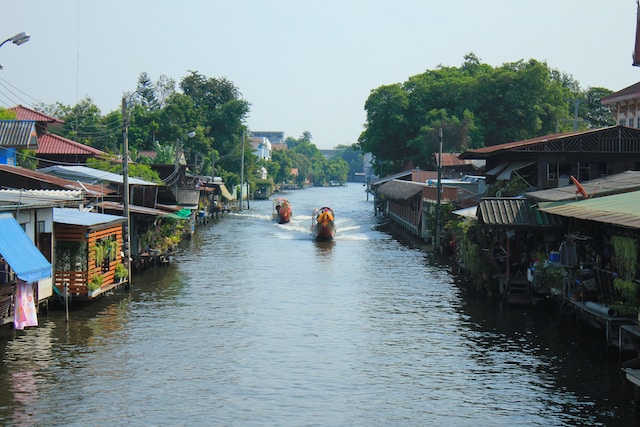 Spend a Week Visiting Bangkok, Thailand:
See the Canals when Visiting Bangkok
Thailand is known for its many canal systems, and even in the Cosmopolitan and modern city of Bangkok, there is still a thirst for that tradition. The canals are still a convenient way to get around the city, and everywhere you go, there are hidden gems dotted along the banks.
Bars, restaurants, and even homes pass you by as you gently traverse the tranquil waterways of the city. This is a great way to get to know the city and feel the flavor of the local life and culture.
Checkout Chinatown while You're There
Founded in 1782, Bangkok's Chinatown is one of the world's oldest and largest. Chinese immigrants settled there over the past few hundred years and have established themselves as the city's largest minority.
There are many reasons for visiting this area, but you must go for the street food alone. The place is also filled with historic Chinese monuments, winding alleys, and traditional temples. Much of the architecture from the 1700s also still remains to this day.
Spend a Week Visiting Bangkok, Thailand
Go Shopping at Ratchaprasong
If you love shopping, you are in for a treat in Bangkok. Thais and tourists alike fill up the city's main shopping district, Ratchaprasong, in their thousands every day. The main shopping hub stretches from Siam to Chit Lom, and they are all connected by Skytrain.
Around the BTS National Stadium, you will find Siam Paragon, MBK, Central Embassy, and Central World, the largest shopping center in the city. All offer low-cost and luxury items alongside unreal food.
Tour Bankok's Temples
A common travel mistake is trying to see everything. But you can't go to Bangkok or Thailand without visiting the temples. Put simply, they are everywhere. In Bangkok alone, there are 40,000 temples.
You can't visit them all, but here are a few worth taking some time to see:
Wat Pho features a reclining Buddha with mother-of-pearl feet and eyes.Wat Phra Kaew: home to the famous emerald Buddha.
Wat Arun: famous temple featured on the 10-baht coin.
Wat Saket: a golden temple with a massive library and a 700-year-old Buddha.
Wat Traimit: home to the world's largest golden Buddha worth $250 million.
Wat Benchamabophit: a temple made of marble with 11 historical Buddha paintings.
Wat Phra Dhammakaya: a massive temple for modern monks only 50 years old.
These are among the most interesting temples in Bangkok. But you could fill volumes about the tens of thousands, each with their own unique stories. Most of these are, however, inside or very close to the city, so you don't need to venture out too far to see them; great for the kids.
Floating Markets are Delightful
There are actually quite a few floating markets around Bangkok. These are located canalside, and you can get off a boat whenever you like, buy some stuff, hop back on, and be on your merry way.
Damnoen Saduak is the largest and most famous in all of Thailand. It is, however, located outside of the city but well worth a visit, not least because it was featured in The Man with the Golden Gun, arguably one of the best James Bond movies starring Christopher Lee.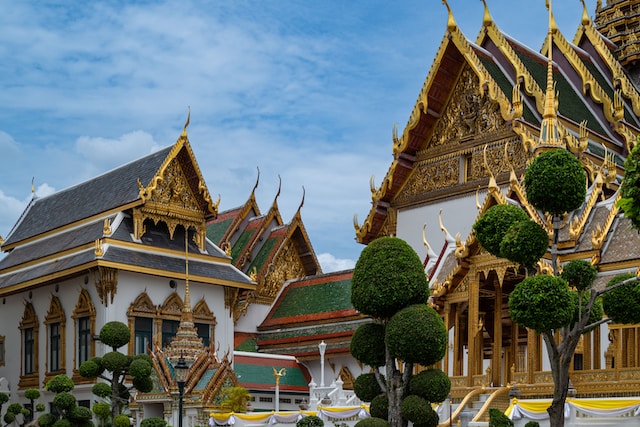 The Grand Palace and the Emerald Buddha
Temples are mentioned above, but this one kind of deserves its own recommendation because it isn't technically a temple. The Grand Palace is one of the most important sites in Bangkok and houses a small emerald Buddha statue.
Today, it still entertains royal dignitaries and other state guests. The emerald Buddha cannot be moved as it is believed to bring legitimacy and prosperity to those who possess it, that being the people of Bangkok itself.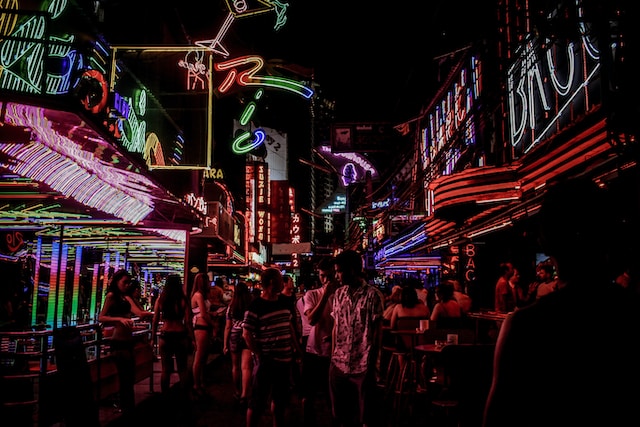 See the Rooftop Bars when Visiting Bangkok
Rooftop bars aren't unique to Bangkok, but the views you get to see are. The stunning skyline of the city means there is always a great view, and when darkness falls, you get to see the city come alive.
Most rooftop bars are found near the main river of the city, including Lebua, which is the film location for  The Hangover 2.
Yet for something truly spectacular, you can visit the city's newest rooftop bar, King Power Mahanakorn Skywalk, which offers glass-floor views of the city below.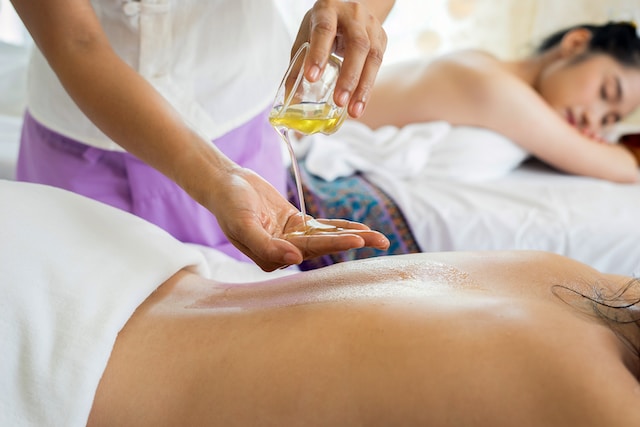 Finishing Off with a Thai Spa and Massage
As mentioned, there's nothing quite like a Thai massage. Massage is a Tha tradition and dates back hundreds of years. Rather than a luxury, it is an everyday part of life in Bangkok.
This means there are many places you can choose. Of course, the city is filled with back alleys and main street massage parlors that cater to even the lowest budget. But for something special, you can visit a spa, like Chi, at the Shangri-La Hotel, considered the world's most luxurious.
Summary
Taking it easy is recommended after the flight when visiting Bangkok. After that, the city is your oyster. Take a tour around the canals, check out the many shopping malls, and, of course, get out to some of the most amazing temples in the world.
But for a hint of luxury, visit the rooftop bars with the best food and the most stunning views of the city. Then cap off your visit with a trip to one of the city's many Thai massage parlors and spas that offer experiences for all budgets.