Short answer, yes. I was dissuaded by many people not to drive across the border to Mexico. They should've know my curiosity would get the best of me so I found another adventurous friend to tag along with me and off we went a few weekends later.
However, I did spend a lot of time researching and planning before just driving down. This article will talk about the things I learned as well as give you advice if you're interested in driving from San Diego to Mexico. The below video shows what it looked like to drive across the San Ysidro border.
For the most part, it's all automated and unless you're staying longer (i.e. need to get a Mexican tourist visa or have something to declare (customs), you pretty much just drive straight into Mexico. Mexican border patrol does however, do random checks, but the odds of getting pulled aside for one are slim. If you are, be polite and honest as you would going through any country's customs at an airport.
I videoed our experience below if you want to get a better idea. (I did turn the camera off once we saw border patrol so they weren't on camera. Sometimes it's illegal to film international border crossings and I didn't want to risk it once we got to that point.)
For more info on border crossing from San Diego, visit the official government website for crossing protocols and border wait times which I've linked here.
From there it was pretty straight forward. My friend and I had the address of the restaurant we were going to and she had international service (make sure you have this if you're relying on GPS in a foreign country or download maps offline to use.
You can also buy an international SIM card from the country you're visiting if you plan to stay longer but we were just there for a day. We also didn't hesitate to ask for directions if needed. I'd advise brushing up on basic Spanish. Most people spoke English fairly well since Tijuana is a border town, but don't expect it.
The restaurant we went to was a five star famous restaurant called Caesar's, which is known for inventing the Caesar salad. They also offer valet parking which made it easy to walk around downtown Tijuana.
When we were done eating and finished shopping we paid and it was only $4-5 US dollars which was well worth it. The area downtown we walked around was called Avenida Revolución, which is the main touristy strip with a bunch of cute souvenir shops. If you're walking around this area I'd advise not to venture too far off as it's easy to get lost.
We wandered a bit past the touristy area down the main road and quickly turned around after we witnessed the cops chasing and arresting a guy right in front of us. Tijuana isn't inherently dangerous but obviously be street smart when you go and don't be out after dark.
Our last stop for the day was Playas Tijuana which is the beach neighborhood of Tijuana. It has a lot of cute shops and places to stop to eat. It's also within walking distance of the border wall which is really colorful with different art and murals on the Mexican side.  If you go to this area, I'd advise exchanging out some USD for pesos since a lot of shops didn't take credit cards or US dollars.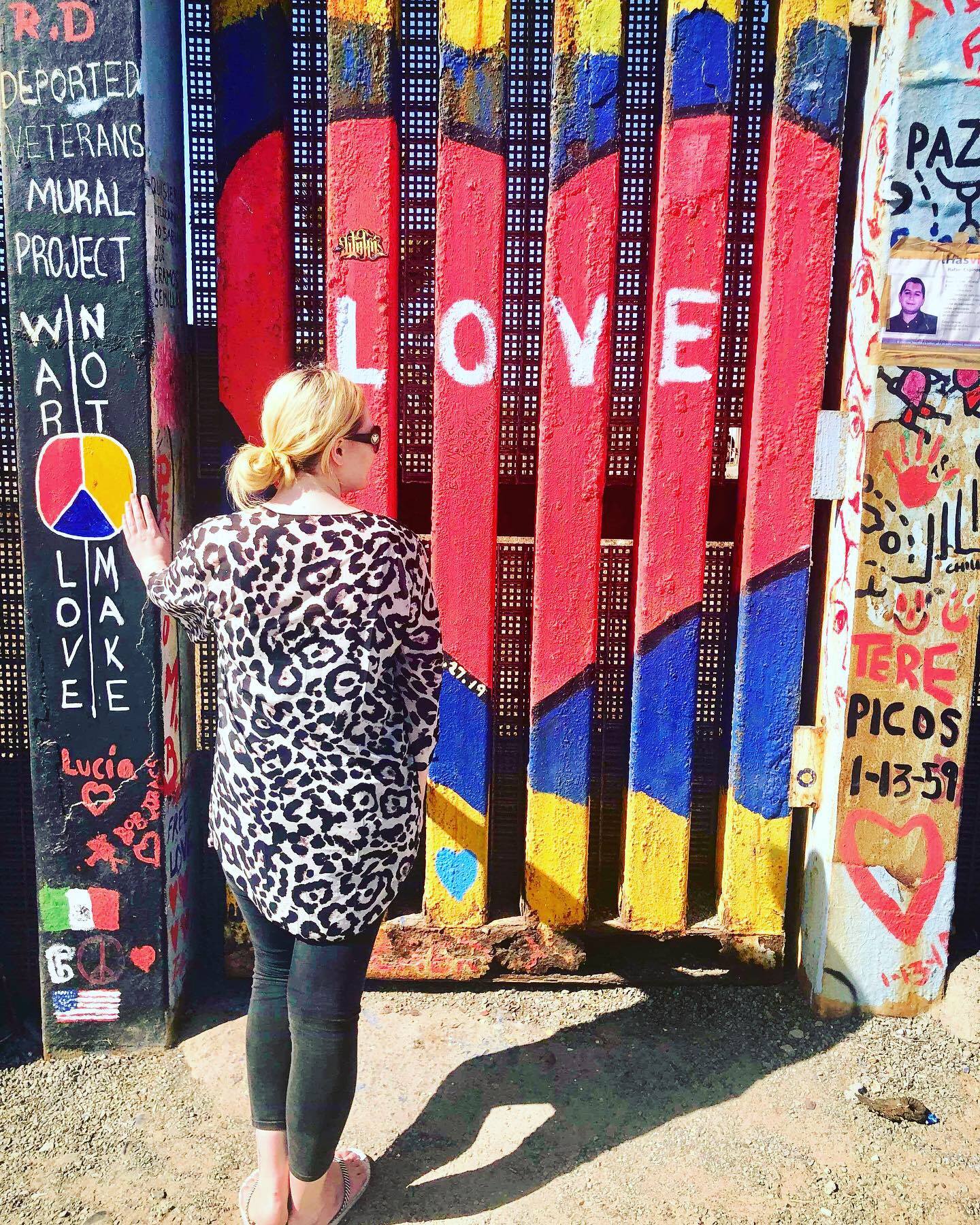 Mexican/US Border Wall
In summary, yes driving across the Mexican border is safe as long as you are street smart and practice certain precautions like you would in any major city. 
I can't remember how many times I've been told not to visit a particular country because of certain stereotypes or the way the media only highlights the negative aspects of said countries. Mexico is one of those countries and I'm glad I visited. Believe it or not I've actually felt safer in Tijuana than certain parts of Los Angeles and San Diego.
There's still so much more of this beautiful country I'd like to see and I can't wait to go back and explore more. Next time I go back I'm planning to venture further south to the beach town of Rosarito and maybe check out Ensenda as well.