Originally published December 2020 – Last Updated, August 2022
Last weekend my family and I stayed at Founders Inn in the Norfolk/Virginia Beach area. I've stayed here before and always love coming here. The hotel is part of the Hilton Tapestry Collection.
(This post is in no way sponsored, but hi, Hilton if you see this – let's work together!) Hilton hotels are taking lots of precautions during this time and I felt very safe. All staff were wearing masks and gloves, along with all guests in the lobby. 
Disclaimer: I may make a small commission off of any of the affiliate links below at zero cost to you! If you book through my links it helps support this blog and is very much appreciated. 
To book your stay at The Founders Inn or see rates – Click here! 
The hotel had its Christmas decorations up and it was stunning. They had a huge tree in the conference center area along with many wreaths and other decorations.
One day they had a Santa out by the tree and families with kids went and had the chance to take photos. 
There is also a spa on the property which we didn't get the chance to go to but I definitely want to come back and try one day. The hotel is also situated right next to Regent University which has a beautiful campus so we also walked around the campus grounds and saw wildlife.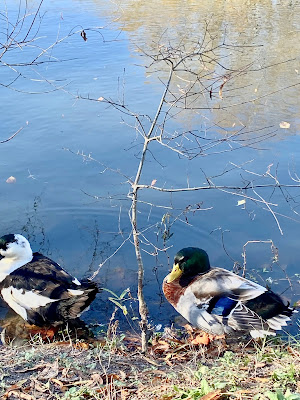 Every morning during our stay we ate breakfast in the restaurant in the conference center. Hilton offers free breakfast and always has great options on the menu.
Free breakfast options were a quiche of the day, oatmeal and yogurt, a plate of pancakes. All came with two sides. We opted to pay a bit extra and try their banana foster french toast (which is delicious!) I also ordered hot cocoa with my meal and our waitress brought it out in an adorable festive mug. 
Our stay was fantastic as always when we come here and I can't wait to return! 
Like this post? Be sure to share and pin it!